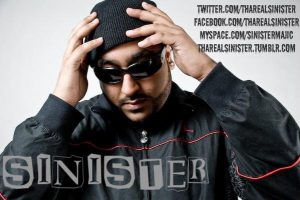 Sinister aka Dope Boy Majic is an up and coming MC out of Toronto. He began rapping in his early teenage years participating in numerous battles and constantly freestyling with friends reflecting personal experiences and his surroundings. This strongly pointed out his unique talent of rhyming and wordplay which his peers and others took a liking to. After much consideration and positive feedback Sinister felt he had to make his presence felt. In the winter of 2006 Sinister joined long time friend Roti's independent hip hop label Masta Mindz Entertainment. He decided to dive into the music scene taking a much more serious approach expressing himself the way he knew best.
After recording for two years making music together both Roti and Sinister discovered there sound and established a unique style ready to take on the industry. Over the years Sinister has been featured on countless mixtapes,promo CD's,has shot numerous videos which have featured on MuchVibe and WorldStarHipHop,and has performed several shows throughout the greater Toronto area. With a combination of his unique style of rhyming alongside excellent delivery Sinister has gotten a great amount of positive feedback from the public. This has motivated Sinister to continue to put out good music and break through into different markets expanding his ever so growing brand. After gaining a lot of positive reviews on his debut mixtape "Aviator Music vol.1" which gained thousands of downloads Sinister is working on a new album scheduled to be released late 2011.
The yet to be titled LP will be available via iTunes and his website. Sinister's album will definitely get you flying high bumping some aviator music.Look out for all Sinister's new music being distributed on Itunes world wide through Mastermindz Ent./ GCP Recording Corp./ Fontana.