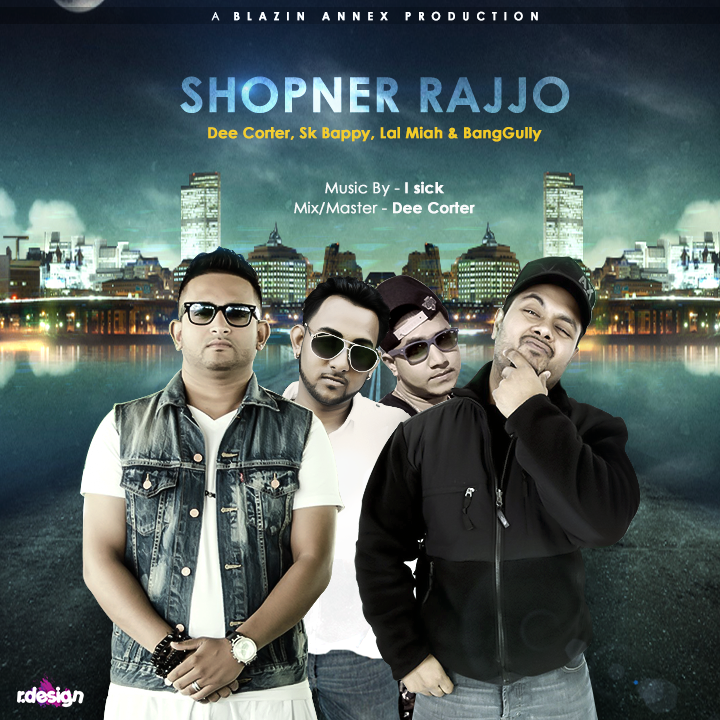 The Blazin Annex crew out of New York decided to bless us with something brand new, like they always do. This crew is so hardworking that it seems like we have something exclusive from them every month or so! Their latest single – Shopner Rajjo – which translates to "Kingdom of Dreams" refers to the struggles faced by the millions of immigrants who come for a better life to the United States. The song was exclusively premiered on Black Zang's Hip Hop Radio Show – Planet Hip Hop.
Collaborative Effort
The crew went hard on it, as expected. Dee Corter & BangGully showcased their skills in production and on the mic. The music was composed by I-sick, and mixed by the sound engineer extraordinaire, Dee Corter. And this time, they teamed up with Lal Miah who is well known for his unique flow on the mic. The other featured artist, SK Bappy, is also an active member of the New York hip hop scene. He released an album produced by Blazin Annex a couple of years ago, and is now working on a nice come back with fresh new music. He is known for bringing a sort of variety that many artists don't experiment with.
'Shopner Rajjo' was put together by Blazin Annex, which seems to be one of the main positives about their brand. They seem to love working with & collaborating with other talented artists. This year itself, they collaborated with GreenCoast and Uptown Lokolz, with a lot more coming up soon.
As we wait for the full length Blazin Annex album to be released soon, we've got this latest single to enjoy. (Article Continued Below… Scroll Down!)
Download "Shopner Rajjo" – Blazin Annex Ft SK Bappy & Lal Miah 
Reppin' Since Early 2000s
Blazin Annex – which consists of Dee Corter, BangGully, Ah Murda & I-Sick – has been reppin' it since early 2000s. They've been grinding hard since day 1, and now we are seeing the fruits of all their hard work. Every track they do now seems to be better than the last, and I say that because I've been following their progress very closely for a really long time. It's great to see such immense passion and dedication to accomplish their life goals. This crew really has what it takes to make it to the top!