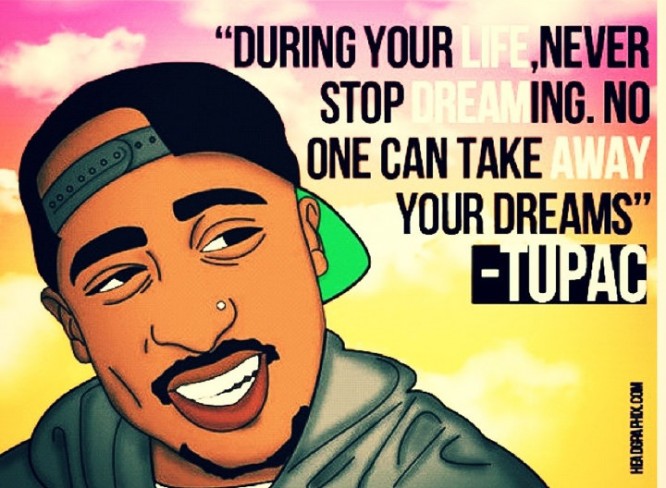 Tupac Shakur tragically passed away on this day – September 13th – in 1996. What he's done for the art of Rap & Hip Hop is beyond comprehensible. His music has spread from his city of Los Angeles to every corner of the world. Tupac has die-hard fans in India, Bangladesh, Pakistan, Greater parts of Asia, the Middle East, Europe, South America, and of course, North America. His music has touched hearts, and minds. The truth he spoke in his verses are still resonated by teenagers and adults from all walks of life. His memes and quotes are still shared globally through social networks. The man's a true legend. However, since he passed away, the world of music has drastically changed. Here are a few changes I've noticed.
---
10. They Stopped Killing off Rappers!
Tupac was shot, and so was Biggie. Since then, so many rappers, like Big Proof, passed away through various sorts of assassinations that it's really sad. But, luckily, bodyguards have improved or gun laws changed. Nowadays, an assassination of a rapper is a thing of the past!
---
9. Rappers Win Grammy Awards These Days
Before Tupac passed away, only 2 rap groups had won the Grammy Awards. And since 2012, rappers have been receiving Grammys at least once in each year's ceremonies.
---
8. Record Labels Are A Thing of the Past
We all know the big part that Death Row Record Label owner Suge Knight played in Tupac's life. He was an overbearing record label executive who even got famous through it all. Nowadays, that's a "no-no". Rappers don't need labels to get famous; record labels are dying fast, and artists are taking notice!
---
7. Rappers Are Entering the Billionaire Boys Club
Recently Dr. Dre hit a Billie. And that was made possible by his brand – Beats by Dre – which was bought out by Apple Inc. And, he's not the only one. Closely lurking behind Dre is P. Diddy and Jay Z – both of whom can smell the billion dollar roses already!
---
6. Rappers Earn More Money from Non-Music Sources
Dre got super wealthy not because of his music, but because of his headphones. 50 Cent makes more through his various brands (like Vitamin Water, and Clothing Line, and head phones) than through his entire music catalog. The lesson in this: DIVERSIFY!
---
5. (Some) Girls think Twerking is Awesome
Umm. No. No. Please. Stop.
---
4. Independent Rappers Finally Have A Chance to Shine!
Ryan Lewis & Macklemore won a Grammy last year  – and they've never been signed to a record label! Tech Nine has ALWAYS been an independent artist, and even though he doesn't get the fame that he deserves, he still makes millions and tours the country as much as Drake does! In this day & age, there are so many resources available to artists that artists don't find the need to get signed anymore.
---
3. Hip Hop is a GLOBAL Phenomena
Hip Hop was always a genre of music that connected hearts and minds. Since the death of Tupac, Hip Hop has made even a larger impact on the world. Nowadays we can find rappers from every continent on the web. Every language. Every race. Every corner of this world. Rap music is GLOBAL. Period.
---
2. Mainstream Hip Hop is NOT about Real Issues
Nowadays the mainstream Hip Hop that becomes uber famous are about parties, b*tches, and more parties. Gone are the days when rappers like Tupac and Biggie rapped about real issues. Although, we do still have real rappers who talk about real things, but those rappers don't get the recognition they deserve any more… *cough* Lupe Fiasco *cough*
---
1. Desi Hip Hop is Here to Stay!
Desi Hip Hop artists were unknown during Tupac's time. Now, a simple search of the keywords creates an endless list of artists & songs on Google or Spotify or iTunes. Desi Hip Hop music is here to stay, and these are exciting times for the world to see!