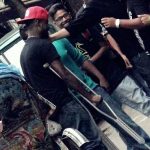 Dhaka city's been buzzing with the Hip Hop bug for almost a decade now, and the rappers in the videos below show us exactly what the hype is all about. As the fans grow, the rappers grow in numbers, the albums keep dropping in numbers, and the performances continue to kick ass! Hip Hop Assemble 2014 was a rap show hosted in the heart of the city to quench the thirst of Hip Hop fans all over the city.
Some of the videos that came out of that show are amazing. The rappers take control of the mic in front of an excited, engaged audience. I loved watching how active the crowd was. They made the artists' hard work pay off with their enthusiasm and support. The show featured some of the dopest Hip Hop acts of Bangladesh – spanning from underground to mainstream. Among the artists were Hip Hop Radio Show host, Black Zang, and his partner in crime at Uptown Lokolz, Big Spade. Black Zang was recently injured in an unfortunate accident, but that didn't stop the rapper from showing up to the show and rocking it like a pro! It's acts like these that makes Black Zang a legend and a fan favorite. Watch the video below for a sneak peak of their performance.
Watch Uptown Lokolz Rock the Crowd
Live Freestyle Session on Stage
The show was headlined by numerous artists including Bangla Mentalz, Bishal Karim, Shree Sen, Golam, G. Sifz, Green Coast, and many others. Watch the video below to catch this very active & engaging freestyle session live on stage!