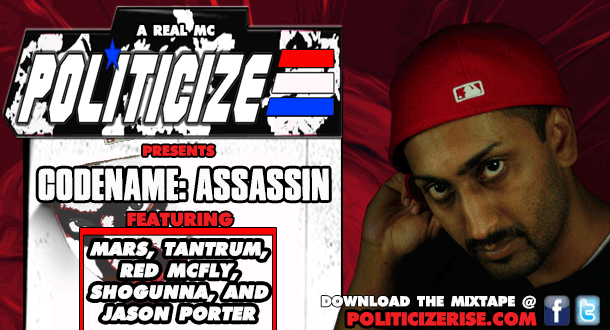 Politicize, probably one of the only Desi rappers from Philly, just dropped a lyrically profound mixtape – "Codename Assassin". Almost surgically he touches the nerve on many levels and is probably going to irritate if not piss off a lot of people. He leaves no stone unturned and without hesitation pulls the trigger on touchy subjects from Politics to HipHop to Media. A similar equation to what earned Big-L his name and also got him into a lot of trouble. Don't believe us? Download Codename Assassin and make sure you listen to "HipHop is Not"!
Farid Ahmed aka Politicize wasn't always as confident in his abilities, as a child he saw his happiness and caring nature put him in several painful situations. "Growing up was never easy, I was loved at home but hated at school. Ever since the age of 7, I was constantly made fun of, pushed around, humiliated, beat up, and treated like I was nothing. I fought mentally and physically with my situation every day until I learned how to fight back with my fists." Growing up hated brought out the underdog in Politicize and the things people once hated him for are now the same things individuals respect him for.
It's not easy being an Indian/Pakistani Muslim standing against oppression. Immortal technique can stand against the bs and for Muslims and he'll be called a hero for it. Rappers can claim there Muslim yet get drunk and act a fool and still have people respect them. However when a South Asian Muslim who has been affected most by anti-Islamic bigotry can't speak the truth without people acting like he doesn't have a right to?
It's a confusing new world out there but as long as Politicize is around you can be assured that oppression against one is oppression against all. "Justice for all or justice for none is how I see it". We should handle each case of class and race warfare as a problem. No one group of people has more of a right to justice than another. And until all are one, we must continue to fight."
Codename Assassin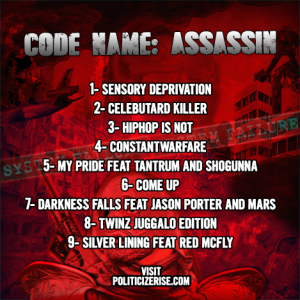 is the newest release by Politicize. The mixtape features artists from various genres of hiphop, horrorcore inspired artists like Jason Porter and Mars to King of the Dot battle rapper Tantrum, Shogunna, and Red Mcfly, producer for French Montanas Coke Boys. The mixtape includes the singles, "My Pride" with Tantrum and Shogunna which salutes many Asian American Hiphop artists on their grind. Other singles include "Darkness Falls", a horrorcore banger produced by Jason Porter Featuring Mars and Jason Porter. "Silver Lining" Features a collaboration between Red Mcfly and Politicize with Politicize on the beat. Listen as they both speak on their prospective aspirations and ambitions. Politicize stretches the imagination of the listener with subjects ranging from putting overindulgent celebrities out of their misery, the state of hiphop, government sponsored false flags, school shootings, drone attacks, and other pivotal issues facing the world today. Listen as Politicize flips Big Pun and Fat Joes' legendary track Twinz for the juggalos, competes with hiphops best artists like Immortal Technique on who can spit the politics best in "Constant Warfare" taking tou on a roller coaster ride entertaining, educating, and speaking to the masses with no filter.
We know we're gonna get a lot of questions from the audience on Politicize…so stay tuned for the exclusive interview coming soon!
http://www.politicizerise.com/