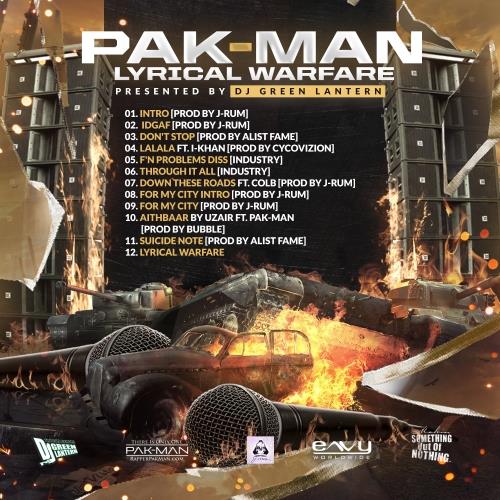 Pak-Man's a wordsmith. I've said this a lot of times already, and I'm repeating again because this Atlanta-based artist has proved his poetic skills yet again through his latest mixtape – "Lyrical Warfare". Throughout the mixtape, Pak-Man made sure he stands up to the title and created a lyrically dope mixtape. I'm just glad I'm on the right side in this warfare, 'cuz clearly, Pak-Man's winning this one!
Click Play to listen to Pak-Man's "Lyrical Warfare"
The album starts off with his sick skills showcased right from the start, in the intro. Followed by "IDGAF", where he tests his flows on a dope beat by J-Rum. Songs like "Don't Stop", "LaLaLa", "Down These Roads", "For my City", "Lyrical Warfare" really showcase Pak-Man's lyrical skills. In "For my City", his flow went off the handle in the second verse. And, one my favorite songs from the album is "LaLaLa" featuring I-Khan from Cerebral Assassins. Both rappers showcase their skills like none other. Pak-Man's skills show that he's been working on his art for many years, and his experience can be clearly seen through all his songs in this mixtape.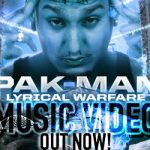 Pak-Man also delves into some stories that are very close to his heart. In "Suicide Note", he expresses some of the realities of life he's experienced. He showcases the same sort of 'reality check' and honesty in "Through it All". In "Aithbaar", Pak-Man linked up with Uz'air whose vocal skills lit up the chorus of the song. Uz'air's singing matched with Pak-Man's flow is the ultimate combination for "Desi Hip Hop", and both artists hit perfection with this one.
Overall, this is a great album for Hip Hop heads all over the world. The lyrical content is beautiful, and his flow's so smooth that it'll make just about any one bob their heads to it. One thing to note, that I really enjoyed, is DJ Green Lantern's shoutouts to "Pakistanis Worldwide" and shout outs to "Desis". Although Desi artists are quickly becoming world reknown, it's still very nice to hear Green Lantern give us all a shoutout!