AO linked up with Haji Springer to release 'On The Low'. Both of these California-based artists have been working double time recently to release music, and here's their masterpiece – On The Low. The beat was composed and produced by AO's brother – Shay On The Beat. The entire piece is a pretty interesting watch with a unique story line.
    
Watch the Music Video – AO x Haji Springer – On the Low | Shay on the Beat
The music video is unique, and it stands out with a movie-like story line to it. It's not the same old 'rap video' with blings and chicks, but it's one that is interesting for any one who's watching. Shay's work on the beat was exceptional – it is the perfect match between the West Coast's old school vibe to modern Hip Hop. And, with the dope beat came the two rappers who flowed sick. Haji Springer brought in his trademark style in 'On The Low', and his verse was catchy on the track. Haji's feature on this track made it one of the very few collaborations he has done with another Desi artist who raps in English. AO dropped a lyrically dope verse on the beat as well, and took charge with the hooks. His work on the track made it stand out and a treat to listen to.
AO – West Coast Swag Meets Desi Hip Hop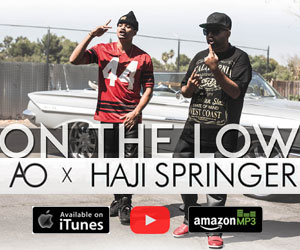 AO is a hardworking Desi artist from Los Angeles. The man has been working hard on his music for years now, and 2015 is the year when he shares all his products with the world! His 'Pound Cake Remix' caught a lot of attention last year, where he rapped about the poverty crisis in India and the greater parts of South Asia. And, more recently, his collaboration with Rayven Justice became an instant hit. It got so many shares on so many different blogs and websites, that the first 3 pages of Google search results are AO's "Keep Ridin". The track got 25,000 plays on soundcloud so far, and is regarded as one of the dopest tracks by AO and Rayven Justice.
Shay On the Beat
In 2014, AO also released one of the hottest music videos on DesiHipHop.com. And, as usual, his beats were created by his brother – Shay. Shay has been working alongside AO right from the start. His beats are catchy, and his production skills are exceptional. He is the man who composed the beat to On The Low featuring Haji Springer. It is a dope West Coast beat & the rappers went ham on it.