Brodha V's "Aigiri Nandini" Brings a Ray of Hope for Rappers in India – Or Does It?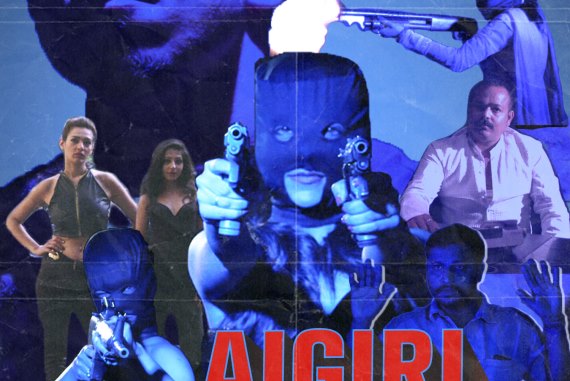 This news brought happiness and motivation to many underground rappers in India. It was an announcement of Brodha V getting signed to Sony Music. Sony Music is pretty much active in India from last few years, especially in Punjabi music scenario. From Signing BIG Artists to supporting Struggling Artists, They have done it all. But how much have they succeeded in entertaining Artists and Audience when it comes to a genre which is still trying to make its roots strong in India?… yes you got it right, HIPHOP.
Sony launched its "hiphop' operations in India with Bohemia. But Bohemia got pissed off when Sony delayed his song's release. He used micro blogging platform Twitter to express his anger against Sony. Bohemia tweeted, "I'm not part of any group, label, company or industry. I'm my own boss. Fuck your industry." You can see his tweets below.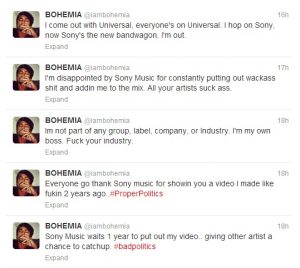 It's been almost a year since Brodha signed papers with Sony. But how much this deal worked for Brodha? It took 11 months for Sony to come up with first song. Ahan? Isn't that quite long?
On 30th of September Brodha V released his new single 'AIGIRI NANDINI'. Besides that he gave away free download link to the song. Which redirects you to Orkut, the social network which died on 30th of September. Well, I respect his sentiments with the going website, but I have to say it was a bad idea.  Majority of the people aren't using Orkut, so those who tried to download this song couldn't succeed because either they don't remember their username passwords or those who have deleted their accounts couldn't make new one because Orkut did not allow, as it was shutting down.  Second, Bollywood has trained the Indian audience to expect free music – because people are going to pay to watch the movie.  But for upcoming artists to just give away their music…hell no…bad idea…at least let people stream it!
On the flip-side DesiHipHop.com quietly launched a Distribution Service and is working with major artists to put their songs on iTunes, Google Play, Beats, Spotify, Amazon and 600+ other digital retailers.  Thats the only way to turn this genre into an industry – support your favorite artists by buying or streaming their songs – not via piracy or freebies.
It is pretty much clear it was Brodha's idea but again I'm on the same question what role Sony has played in release of this new song by Brodha V? Except from uploading this song on their Youtube channel and putting some money into FB & Youtube for ads?  Well, to get little bit more clarity on it, I analysed Facebook pages of Sony Music India and Sony Music South. But to my surprise I couldn't find even a single post related to Brodha's new song.  And you know what, it's a damn good song that's spreading social consciousness and adding another perspective to HipHop in India.  If you haven't already…check out the video:
On Sony Music India they are busy promoting Bang Bang, the upcoming movie of Hrithik Roshan and Katrina Kaif. And on Sony Music South They too were promoting movies. And yes some Birthday Wishes to BIG stars too.
Last year Raftaar was signed by Three records. Since than Raftaar's following has taken a huge jump. Because Manj himself is an artist and realise the freedom and attention one artist may need to grow. Since RDB disbanded few months ago and Manj decided to pursue as an independent artist, Raftaar is working with Manj Music. As of now, there is no clarity on the existence of Three Records. I found this Page on Facebook, which is not active and has some posts by Surj only.
Sony isn't the only major music label shooting themselves in the foot, so is Universal.  But hey, when you have Bollywood holding a gun to your head, who are you gonna listen to?! But there is a ray of hope for Desi rappers – DesiHipHop.com is holding their position to support independent artists. Actually I heard they are even funding underground rappers who got talent! When they release a single – they push it hard – just look at the way "Preet", "Lamborgini" or "Lay The Law Down" have been trending on Youtube, iTunes, Google Play. That stuff doesn't just happen, the label actually has to work for the artist. So rest assured, there is a big brother looking out for you, his names is DesiHipHop.