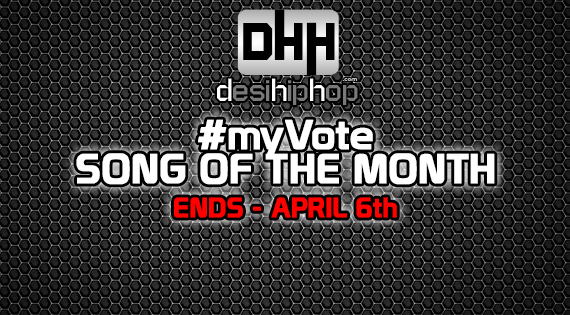 This month's 'Song of the Month' is kind of difficult. There are soooo many dope releases on this list that even we, at DesiHipHop.com, are having a very difficult time to select the best ones! But, don't worry, YOU get to select more than one favorite song.
Some of these songs deserve to be in Top 10 lists around the globe, but for now, WE the users/listeners/fans must vote and make our choices. The votes wont be open forever, so GET ON IT now! Be sure to share the page and make it known, the more votes we have the better it is for the entire community. Go on, select your favorite Desi Hip Hop songs of the month!
[DISPLAY_ACURAX_ICONS]
VOTING CLOSES –

April 6th, 2014
Since voting closes so soon, hit share NOW and get this started!
Tip: You can Click on the songs below to hear or watch them again!
[polldaddy poll=7934225]
[DISPLAY_ACURAX_ICONS]
Thank YOU for voting 🙂