So the moment we've all been waiting for is here! Meri Bandook by Haji Springer & Bohemia is finally out now. And, as expected both artists killed it!
The song starts off with a classic swagged out verse from Bohemia. With a sick flow, and some intense lyrical skills, Bohemia makes listeners want to listen to it repeatedly. His hooks, too, are so dope that it will have any one hooked. Haji Springer's verse then drops in the second verse, and it's nothing like anything you've heard from him before. Haji not only catches the attention of his listeners, but his flow is intense throughout the verse. Haji Springer's beat, as well, is one that is unforgettable. To sum it up, this song is most definitely going down in history as one of the dopest Desi Hip Hop songs released! Without further ado, click play below, and see it for your self!
Watch Meri Bandook – Haji Springer ft. Bohemia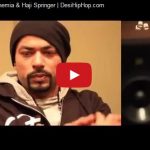 Meri Bandook is part of Haji Springer's 'Survivor' which promises to be an album that fans will get a lot out of. Survivor is still set to drop at the end of December. The man has been grinding hard all year round, and it seems like the climax for all his efforts is going to be really sweet. Desi Hip Hop fans are bound to enjoy this influx in dope Hip Hop music that's taken over the month. Haji Springer's Survivor is something that fans are eagerly waiting for.
Special thanks to Prez Ent and Kali Denali Music. Artists outfitted by StayUpMovement.