[CORRECTION: After further research it has been confirmed that Femcee Evil was the first underground female emcee in India. However, no matter when the artists chose to rap about their passions, they are all talented in their own individual right.]
Read about how Manmeet Kaur aka MC Kaur got into HipHop, her struggle and life as a "femcee" after getting married.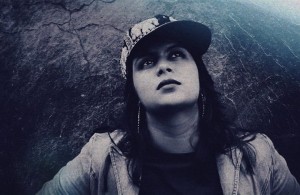 Starting with your first step towards hip hop, how did u get into this game ?
MC Kaur: I am not in Hip Hop to win over someone so this ain't a game for me. So, it all started back in the days when I was 13, my brother brought this collection of English songs which also happened to have Hip Hop tracks in it. Those were more of D12 and India's "Rap God" Eminem's then hits. Not that I would dig on what they'll say but how they'll say. And I starting writing and practising their rhymes schemes. First time I performed was in my high school.
You are India"s First Female Emcee, how long have you been rapping & were there any difficulties you faced?
MC Kaur: About the tag, a lot of counter guys go gung ho about this "india's first femcee" thing. I would like to announce that if a girl write a song, records and puts out, and then after is not socially and actively participating in the growing of the culture in a nation it is new in, is not a femcee for me. I wouldn't brag but when I came out of my bedroom and got into the circle, there was no girl repping it legit. I was, I am and still will continue. Yes indeed I was mocked upon by alot of fools like these commission troop back in Chandigarh. They tried to belittle me by hacking my fb ccount and disrespecting with the filth. But its all good, they sent death threats but did they actually come outside my house with the guns? Ha Ha HELL NO! Its a trend in Punjab, if you cant budge a Kaur, act in front of your guys like you did her. Abuse her to the most when you know you cant do shit.
How is your Hip Hop life going after getting married to Big Nikk ex member of M.W.A?
MC Kaur: Lets get the facts right. Just because Brotha V left the crew doesn't make Nikk an ex member. Ha Ha. He and I are doing just so fine. He has been an immense inspiration to online casinos me and still guides me to overmaster my own style. At times, you got to make choices to earn the bread and butter. So both him and I are at a lower pace of making music and about our jobs. I am still settling in Chennai, meeting the musicians here and do jam with some for the vibe of it. I have performed here twice so far in six months and could say that the crowd is quite boring. But I am sure I ll be able to ignite it back through the course of time.
At this stage of your life what does Hip Hop mean to you?
MC Kaur: Hip Hop is struggle for me nowadays. Away from my parents, being in a culturally different city, new family, doing the job right to finishing my degree to being a good Bahu, from sleeping wide on my own bed to sharing a room with someone evryday. See I am young, had my own laze and comfort. But now it is all changed. Now its real. And I accept with a smile on my face because HipHop taught me so. As i recently posted on fb, I will be soon training some of my company officials on how to rap for an experimental project. I find this mre interesting that having my own show where people just come to see how I am dressed and not the words. Its like a Hip Hop spread on the Real Life bread.
We have seen a lot of people looking towards you as inspiration and motivation. But, what motivates You as an artist?
MC Kaur: The more I see old fools still acting fools, the richer goes the motivation for me. I am a huge fan of J Dilla. His music filters the crap out of my verses and helps me stay real. Boombap, coming from any MC/Producer, motivates me. Hard working visual editors motivate me. I motivate me.
How does it feel to say the word "Fuck" on camera? Takes a lot of courage as a female in India…does it not?
MC Kaur: Even a kid of 5 uses the word fuck on a general. Its all good. I think we need to relax a bit on this one. I don't fill my songs up with just "fucks" but its an exertion of stress or enthusiasm mostly. Its reflex and definitely needs no courage to be said. Atleast for me!
 Have u decided to drop any new track for your fans?
MC Kaur: So its been two years since I have been trying to bring my LP out. Now that I have elevated as an artiste. I flow better than before so I am saving money up to have a booth at home and record. I have been working with alot of underground producers and MCs overseas. Also, a music video is coming in the beginning of 2014 showcasing me and my sisters Graff queen Dizy form Delhi and BGirl AmB from Bombay. one messg you would like to give to the public about Hip Hop? Dear Indian rappers and producers, try coming out of your FB obsession of confession pages and all the hype. Hip Hop is very rich. You all got skills, don't demean them by acting fools. Know the history of hiphop, to carry the torch to the right direction. You don't represent any land, religion or race, you represent yourself. Check the current undergroung producers of different countries, will help you understand and learn better. Bigups to all the hard working HipHoppers
Check out MC Manmeet Kaur spit some knowledge & a freestyle about the recent controversies surrounding Honey Singh: