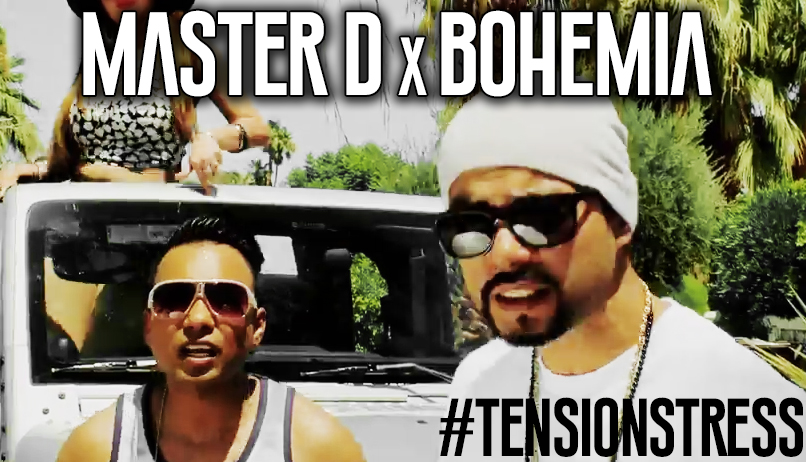 Master D – the king of Bangla Urban music – has been working tirelessly over the past few years to establish himself as one of the front runners in Bangla R&B music. With the release of singles like 'Aye Raat' and 'Desi Chick', I believe he successfully established that feat already. Now, he just dropped an epic banger for Desi Hip Hop fans worldwide to enjoy. Titled Tension Stress with Bohemia, the track is smooth, and has every element of music to impress the crowds. This is, in fact, the first time a Bengali artist collaborated with Bohemia, and Master D made it work like a champ. Check it out below, you're gonna dig it for sure.
Watch Master D Feat Bohemia – Tension Stress
This track defines "Unity Through Hip Hop", as it brings together two artists from two different places on one track. Master D is a Canadian Bengali artist who has been producing, singing, and touring with the Bilz & Kashif for almost a decade. Where as, Bohemia is a California-based Punjabi rapper who has been working his craft for well over a decade. Both of their fan bases are unique, and worldwide. As the two giants meet for this track, it undoubtedly makes this world smaller and brings together people from all over the globe. And I, for one, applaud that notion.
The buzzing Artist & Producer extraordinaire – Master D – already made huge impact this year. With the success of Aye Raat and Desi Chick, he kept grinding hard and recently signed with Universal Music India. He was also one of the headliners at one of the largest South Asian Festivals in North America – DesiFest 2015 – along with Zack Knight & Mickey Singh. He also announced that he charted on Asian television media outlet – MTV India, for being the very first Bangla Urban artist to have his hit single – DesiChick, in heavy rotation alongside talented artists like Apache Indian, Hard Kaur and Jal. He's now proud to say that collaborating with Bohemia for his major debut single – Tension Stress is all about his movement to revolutionize the Bangla Music Industry. The single is out worldwide on all major digital outlets on May 15th via Universal India & Bilz Music.
PURCHASE TENSION STRESS LEGALLY HERE –> http://bit.ly/TensionStress
To get a better understanding of Master D and what this collaboration means to him, check out the inside scoop into Master D below.