Marvin Dass, originally from Chandigarh, is out to take over the Desi Hip Hop scene out of Dallas, Texas. This rapper/entertainer has been on his hustle for quite some time now, and continues to push it through new music, new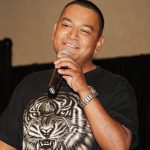 shows, and everything he can do to accomplish his musical goals.
The artist is also a strong businessman, who works on numerous entertainment marketing projects at a time. He's got the motivation and ambition to succeed, and his music gets better by the day. Marvin is also about to perform alongside Bohemia, and Lazarus, on November 14th and 15th in Texas. This will surely be an amazing opportunity for the artist to showcase his skills to the world!
Check out a few of the tracks below from Marvin released this year. The first is 'Maavan' dedicated to his Mom, and was composed and produced by himself and his close friend Lovely 2L Lucha (who will also perform on Nov 14th & 15th). The second song below is a love song dedicated to his significant other, while the last track is an innovative Hip Hop fusion that mixes well with Sufi music. Interesting stuff, be sure to check it out and share your thoughts on this brand new Desi Hip Hop music!
Marvin Dass – Maavan
Marvin Dass – Mulakat
Marvin Dass – Meil Karadey *Punjabi Sufi Rap* (Featuring Michael Dass & 2L)