lil tunechi revealed the sequel's Art cover and track list of the crashing US billboard 200 chart's Album "I am Not a human being". the First shot is been Released in year 2010 as been certified gold by RIAA.
"I am not a human being II" is been releasing on march 26th,2013. the album is been featuring the YMCMB Artist like Drake, Nicky minaj, Gudda gudda. It's also featuring 2Chainz, Soulja boy, Big sean.
Lil Wayne revealed the track-list for his upcoming album I Am Not a Human Being II. Checkout the official tracklist below.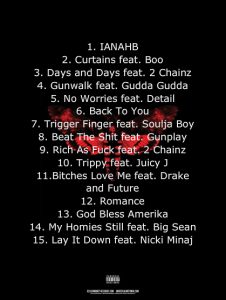 As per the Sources, for designing artwork, Weezy hire Kanye West's DONDA, a creative content company that the rapper established early last year. 2 Chainz's Based on a T.R.U. Story, GIF cover art for Wayne's single "Love Me," is the previous work of the later company.
Check out the official cover art for "I Am Not A Human Being II" and also single cover art for "Love Me" below.