Lazarus has always been a man who creates his own pathway through life. He follows none, and treads his own way. Which is basically one of the most important concepts for an artist & an entrepreneur. The man made impact by being a Doctor and a professional rapper at the same time. He then made impact when he dropped tracks with countless well known Hip Hop heads, including a song where he eloquently raps a heart surgery. Now, he's made impact yet again with a single featuring Royce Da 5′ 9″, one of the illest Hip Hop lyricists of our generation.
LISTEN to LAZARUS Ft. ROYCE DA 5′ 9″ – Underdog 
Desis are Constantly Considered to be Underdogs
The song – Underdog – represents a lot of things. To me, it represents how Desis are constantly considered as Underdogs in the music world, especially in the world of Hip Hop, in sports, in entertainment, in pretty much everything except medicine, engineering, and business. Since the rise of Hip Hop, Desi artists from South Asian heritage were always considered as the ones who "aren't good enough", the ones who can't really match up to the quality of American artists, and never close enough to be on any billboard charts in the US. No major media outlets in the US like to talk about Desi artists, no matter how famous or dope they are. Forget about Grammy's or BET Hip Hop Awards.
With this single, Lazarus made his attempt to break that chain. He went head to head against Royce – who is by far one of the illest emcees in the world right now. His work with Eminem, DJ Premier, Slaughterhouse, and all his solo projects has proven him to be one of the best in the game. Some people even claimed that Lazarus must be crazy to face someone like Royce in the booth. But, the man out did himself with his verse. His flow, his lyricism, and his over all presence on the track is bound to make every Hip Hop head proud of him.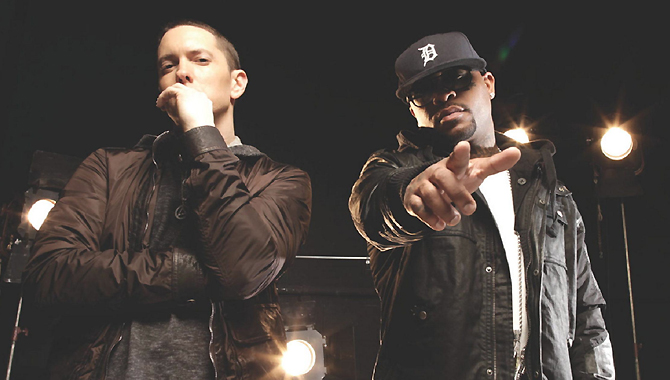 Prequel to Southpaw – The Movie
Right before the release of the movie "Southpaw" (soundtrack by Eminem, Royce da 5′ 9″), Underdog is released as a sort of prequel to the Southpaw album. Lazarus found it important to take on the image of the underdog in the scene, and took it on himself to prove it to the world that he's capable of lyrically uppercutting one of the dopest rhymers in the world. Legendary Chuck D will officially release the track on his radio show on the 17th morning (US time), so you're lucky to hear it before him!
What do you think about the track?
COMING SOON ON ITUNES, AMAZON MP3, APPLE MUSIC, AND WORLDWIDE MUSIC VENDORS