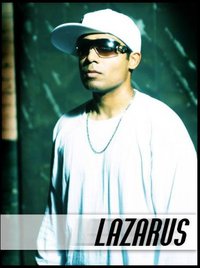 Lazarus is a Pakistani-American rapper/doctor based out of Detroit, Michigan. His resume in America includes being featured on the Discovery Channel, MTV, Fox Sports, to having opened up for Eminem, D12 and 50 Cent, along with having tracks that feature Royce Da 5'9″, Proof of D12 and the legendary KRS-One. His music is also played on rotation on MTV, ARY, AAG and GEO in Pakistan.
Having sold close to 30,000 copies of his debut album "Chapter One: The Prince Who Would Be King" and attaining well over 200,000 downloads of his latest mixtape "Lazarus Story," Lazarus has made himself an icon in the underground hip hop scene of today and continues to grow in the streets and throughout the internet. MTV VMA award nominee Anthony Garth (director of The White Stripes, Eminem, Three Six Mafia, and Jim Jones) directed the video for Lazarus' first album single "Let The Game Know" after seeing his notoriety on the Discovery Channel documentary he was featured in, entitled "The Real 8 Mile" that was aired worldwide and hosted by 2-time Pulitzer prize winning New York Times writer Charlie LeDuff. LeDuff, recently a main feature in Vogue Magazine was interviewed in TV Guide Magazine, and described Lazarus as one of the most charismatic and appealing rappers to grace today's hip hop scene, explaining the reason for his story to be portrayed on worldwide television.
Recently, Lazarus was also featured at a banquet event at the great Russell Simmons' house, where he not only amazed his audience but the bulk of the superstars at the event. Getting a deserved standing ovation that he won't forget, Lazarus is set to light up stages and people's music collections for years to come!
Checkout Godflow by Lazarus: