Lakshya Arora Who is better known in the Underground Rap Scene by his stage name Lakshya is a rap artist hailing from the beautiful city, Chandigarh. He came into lime light after his much appreciated collaboration with a fellow rap artist and friend Rob C. Krazy initially formed a crew called "Sarkaar" in the year 2011 with his dearly departed friend Navabsaab who was a punjabi rapper and in just a year they both parted their ways as "their opinions differed in almost every aspect of music" says Krazy.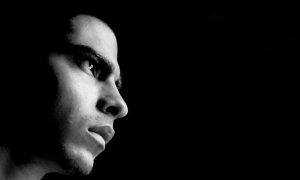 In year 2012 Smokey The Ghost (Former member of rap crew Machas With Attitude) made a beat for Lakshya on which he made a single titled "Give Me Some Strength". When the single reached the ears of Rob C he approached Krazy to work on his much appreciated debut mixtape "The Outlandish" and recorded "You May Never Know" and when the song made a decent buzz around in the underground Krazy collaborated with another Desi Hip-Hop vet, Sikander Kahlon on his 4th mixtape "SIKmatic". Soon, Lakshya made an old school posse cut titled "Whom You'd Call" and featured Kala Kurta Gang's Rob C and Sikander Kahlon and Mumbai's veteran rapper Enkore on it, the song grabbed a place in the Top 5 of "Favourite Desi Hip-Hop Song" poll conducted by DHH & THH.
Lakshya's former crew member Navabsaab lately lost his life due to kidney failure leaving lakshya in a state of shock and devastated. He then disappeared from the underground and reappeared in a live show conducted by the Underground Music League for budding underground rap artists on 20th of october 2013 in IIT Delhi's well known event "Rendezvous". Later, in january 2014 Lakshya shook the underground music scene by dropping a music video single titled "Conquest" and collaborating with Rob C, BigDeal, Veer Karan and The HK on Rob C's sophomore mixtape above the rest on songs "Takeover" and "Piece Of Advice" making it one of the hardest comebacks made by any artist in the Indian underground hip-hop scene.
In mid 2014 Lakshya formed his own crew "Prodi-Gs" with rap artists Youngsta Ash and Ewill myth and has been consistent in dropping lyrical bombs eversince. As of now he is working on his debut mixtape titled "The Wisdom Fruit".