Break dancers are an important part of the hip-hop genre. We know all prominent crews from big cities like Mumbai but here we will tell you about the emergence of a break dance crew from an unknown part of the country. In the city of Vizag, also known as Visakhapatnam, where people had no clue about what hip hop is, emerged a crew with the name of 'UK Crew' which stands for 'Unbreakable Knights Crew'.
This crew was started by four teenagers who took the initiative to teach the basics of break dancing in the city. It was unbelievably amazing to actually find people taking interest in learning this art. After getting good support from people of this city who admired those artists for their skills, this crew took part in a competition after clubbing up with another crew named the 'UF Crew'. This competition was sponsored by 7 Up and these dancers won the competition! They reached Bangalore for the next round where they ended up being runner ups and the SNV Crew were the winners. Surprisingly this crew is now starring in the leading cast of the bollywood flick ABCD-2.
The UK Crew is still glad and overwhelmed for the experience they had, never giving up is a strong trait all artists got so does this crew. After returning to Vizag this crew took part in another competition called 'Dancers War Season-1' and stood first! The crew members collaborated with eminent crews like 'D-Maniax'in order to revive and resurrect the hip-hop culture in the city. Presently the UK Crew joined hands with other crews named 'Unique Freakz' and 'Mobsters', they are now known as 'All Starz Crew' and they are now coming up with big plans to entertain all of us with their talent.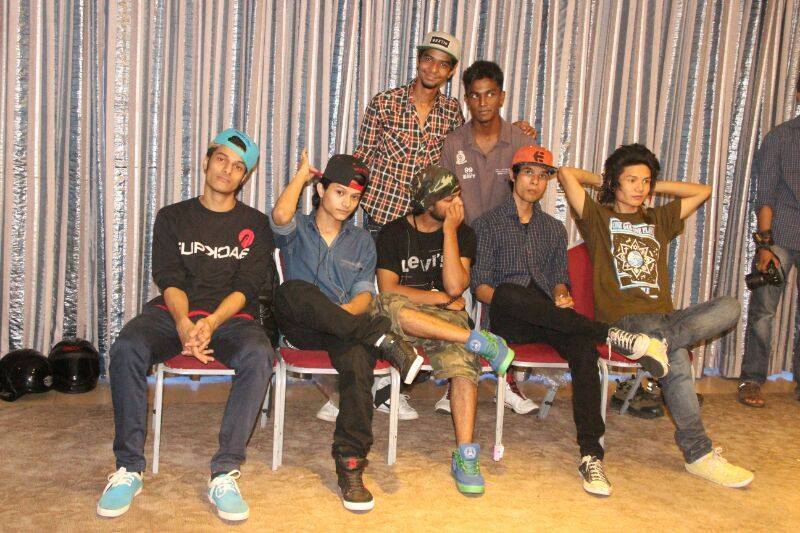 UK Crew members with D-Maniax Crew.