Jeena Mushkil Hai Yahan – Uk Rapi Boy ft Jinpark & Sun-j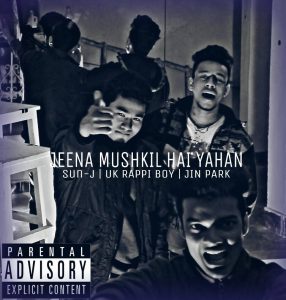 Jeena Mushkil Hai Yahan is a song about the three guys who are surviving their life in struggle in this song they want to tell us about real life reality, means they are facing some problems in there own life and working hard but getting none achievement everyday tried to get success.
In reality Mahender is a very simple guy and he love to sing and write a song, people know him by name of Uk rapi boy aka Mahender singh khatri he belong from uttarakhand nainital right now he is living in New Delhi Saket. Fortunately he met Jinpark in Delhi and they became very good friends. Jinpark is also a underground rapper and lyrics writer he is doing job and singing both together he belong from nepal , birthplace is new delhi India. Jinpark also known as Pankaj Rana, Sun j is a B-boy, rapper, Beatboxer, singer and a crew mate of a B-boy crew called (AGNASTIK CREW) they had performed many show and also have own studio he's also a mixer master and music composer he live in new delhi Rk puram he belongs to uttarakhand. One day surprisingly Jin Park and Uk rapi boy met with sun j at his home they all are from same profession so they decide to make their own song and they made Jeena Mushkil Hai Yahan.
Music composer -Sun j
Video edit & Making – Sun j
Mixing & mastring By-Sun j
Lyrics by – Uk rapi boy , Jinpark , Sun j