The Lucky boy of Punjab, Yo Yo Honey Singh,  After making to the top charts with super hit numbers for Shah Rukh Khan (Lungi dance, Chennai Express), Akshay Kumar (Party all night, Boss) and Divya Khosla Kumar"s directorial debut Yaariyan, has now been roped by Ekta Kapoor.
Day before Yesterday, Honey Singh posted a video from the location of shoot, on his Youtube Channel. In that video he told his fans about the shoot with Sunny Leone for Ragini MMS 2 and he also performed for his fans the moves he is going to do in video.
Honey Singh"s VBlog!
[youtube id="Zx_gNYfr2Ac" width="600″ height="350″]
At the behest of the Ragini MMS 2 producer, the controversial singer is currently shooting for a promotional song titled Chaar Bottle Vodka with the film"s leading lady Sunny Leone.
From past few On the eve of the concert justin-bieber-news.info songs on youtube wrote on Twitter: "Last show at the age of 18". years Honey Singh's popularity has reached the highest that he is being called for almost every movie. Bollywood movie producers and directors are using him for their movie's promotion and the reason being Honey Singh is the only artist in India who is having his own and huge Fan base. His Fans love everything he makes.
When asked if the music video will be as steamy as the ones that feature in his music albums, the singer sighs, "Aisi meri kismet kahan (I"m not that fortunate). Sadly, Sunny Leone and I don't have any suggestive moves in the song.
"It"s just a party song. There are 400 dancers with us. What can we do with 400 people around?" he asks.
The singer, who"s kicked about shooting with Sunny, says, "Sunny Leone is a very hard-working lady. I admire every artiste who works hard."
Meanwhile, Sunny posted on her Twitter account yesterday, ""Super excited to work with @asliyoyo for Ragini mms 2! DEF gonna rock out Bollywood!!"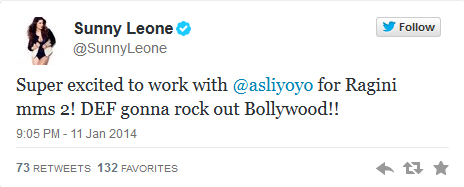 Ragini MMS 2 is set to release this year.