I Am Hip Hop – Mumbai's Finest and 2- ShadeZ (Prod by RJV)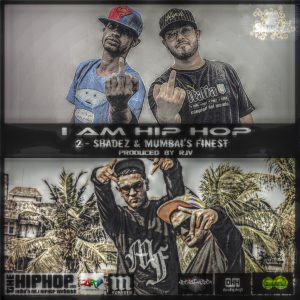 Mumbai's Finest and 2 Shadez have collaborated for a new video called I am Hip Hop.
[youtube id="UTSSihKFUGs" width="600″ height="350″]
I am Hip Hop' is a track off Adro's Mixtape coma and also from 2 Shadez's Mixtape 'Dispensing a Sound' .This is an official collab between Mumbai's Finest from Mumbai and 2 – Shadez from Delhi and is produced by RJV from Street Academics' from Kerala. The Video is shot half in Delhi and half in Mumbai and this is aimed at spreading love and unity amongst all the hip hop heads across the nation.
Lyrics
Verse 1 – Slyck ( 2 Shadez)
Thank y'all for underrating me
It's like y'all were training me
Outsourcing the pain in me
On the M.I.C
With rhymes viscid and explosive
Explicit and corrosive
And those who oppose it
Shall never know it or take notice
Of pure HIP-HOP
Sparks this hope in me
Always keep flowing be
Floating on these beats
M.F and G-city's beasts with ease
Now y'all feeing the heat
I lead and y'all receed
I am never leave
This is 2-ShadeZ
Verse 2 – Zan ( 2 Shadez)
Yo yo yo yo
I always tell em
Take your dreams seriously
Cuz its One Love , One Heart and One Destiny
So I always put in the best
Of me
Testifying on the best of beats
My dreams attested to 8 bars only so I'm switching lanes
High speed on that nh-8
Fuck a toll tax
Breaking through barriers
And barricades feeling great smoking on some charas mixed with Ganja
Living in the land of the Mahatmas
I'm putting these rappers to a Sadhna
Hook – Zan and Ace
It's 2 shadez and Mumbai's finest, It's 2 shadez and Mumbai's finest,
We are the hardest, ain't no question about it
It's 2 shadez and Mumbai's finest, It's 2 shadez and Mumbai's finest,
We are the hottest, ain't no question about it
Verse 3 – Adro ( Mumbai's Finest)
2shades k saath tum ab dekhlo ye rang…
Publick toh rehti hai mujhse ab tang…
Kyuki..aata mein aise raftaar se..
Jo peeche se nikle ab aage aur toh sabki haar hai…
Sir pe sawaar hai..aisa bukhaar hai…
Flow itna sick ab toh sablog bimaar hai..
Waqt k saath..hatt k baat..karte aaj..
Sir pe rakhte hai hum taaj !
Verse 4 – Ace aka 39 ( Mumbai's Finest)
They said I would never make it, I am faking,
But I'm living life, like on vacation,
Rap in my nation , was like a taboo,
I never gave up, so it had my back too,
They stabbed my back too, still got no tattoos,
Ive been though it all, done it all, seen it all
From the bottom to the top, I showed no remorse
It's in me because, I am hip hop!!
Hook – Zan and Ace
It's 2 shadez and Mumbai's finest, It's 2 shadez and Mumbai's finest,
We are the hardest, ain't no question about it
It's 2 shadez and Mumbai's finest, It's 2 shadez and Mumbai's finest,
We are the hottest, ain't no question about it