Here's All About Gangsta Rapper Indian-777 And His Upcoming Track 'Nothing To Lose'
Gangsta rapper Indian-777 is coming up with his latest track 'Nothing to Lose'. Let us tell you more about this artist, born in Bangalore and brought up in the US for 25 years. He lived the gangsta life and even got hit 7 times, was locked up for sometime in the housing unit 7 and his cell was number 7 too, hence he named himself "Indian-777".
You will hear him say "Fuck You DesiHipHop Niggas Out There" in the promo video. He means to say why don't more Desi's work together instead of sticking to their little groups. We have to work together and show our strength in numbers.
He looked up to the legendary rapper Tupac and was really inspired by him. Not just this, music ranging from Metallica to Lana Del Rey interests him, this explains his love for music. This artist has lived the life which involves risk, beefs and brotherhood of his crew. He even got shot at by the cops at point blank range a number of times and unfortunately, some of his closest homies are no more or had betrayed him. His luck changed and he was deported to India in 2011, he considers it as a blessing and an opportunity and since then he is working hard and making songs on various themes, giving away different messages. He made ample number of tracks like 'We Will Remember You', paying tribute to the brave heart 'Nirbhaya', 'Fast Life', in which he talks about how he rolls in the city of Bangalore and many other songs.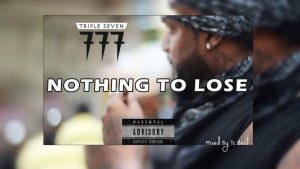 Indian- 777's upcoming track 'Nothing To Lose' is basically talking about various elements like getting forgiven about the sins one has committed, but not to stop doing what one loves to do, not to depend on anybody or anything but be dependent on yourself and defeating all hardships that you face. Apart from rapping about being strong and self-dependent, this hustler portrays partying with gangsters, thugging and women as a part of this brand new hot video. The track is mixed and mastered by TC Best of Young Kingz Music record label, let's see how it rolls amongst the hip-hop lovers in here.