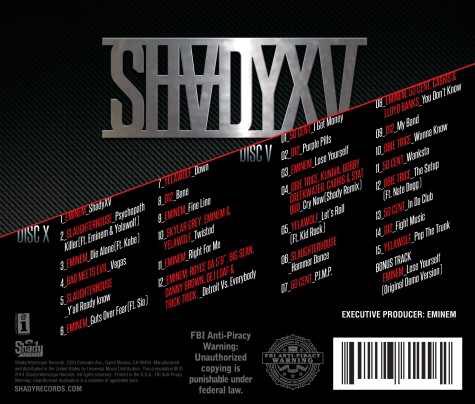 SHADYXV Drops Nov 24th
Eminem is about to release the 2-disc ShadyXV on November 24th. With the first disc being all new material from Slim Shady, Yelawolf, D12, Slaughterhouse, and Bad Meets Evil. The most anticipated track definitely has to be track 12, "Detroit vs. Everybody," featuring Danny Brown, Big Sean & Dej Loaf, Trick Trick and Royce Da 5'9″.
The 2nd cd will be composed of all Greatest Hits material. Make sure to be on the lookout for a pre-order link soon. POW!
SHADYXV DISC 1
1. Eminem – "ShadyXV"
2. Slaughterhouse – "Psychopath Killer" (feat. Eminem and Yelawolf)
3. Eminem – "Die Alone" (feat. Kobe)
4. Bad Meets Evil – "Vegas"
5. Slaughterhouse – "Ya'll Ready Know"
6. Eminem – "Guts Over Fear" (feat. Sia)
7. Yelawolf – "Down"
8. D12 – "Bane"
9. Eminem – "Fine Line"
10. Skylar Grey, Eminem, and Yelawolf – "Twisted"
11. Eminem – "Right for Me"
12. Eminem, Royce Da 5'9″, Big Sean, Danny Brown, DeJ Loaf, and Trick Trick – "Detroit Vs. Everybody"
SHADYXV DISC 2
1. 50 Cent – "I Get Money"
2. D12 – "Purple Pills"
3. Eminem – "Lose Yourself"
4. Obie Trice, Kuniva, Bobby Creekwater, Ca$his, and Stat Quo – "Cry Now (Shady Remix)"
5. Yelawolf – "Let's Roll" (feat. Kid Rock)
6. Slaughterhouse – "Hammer Dance"
7. 50 Cent – "P.I.M.P."
8. Eminem, 50 Cent, Ca$his, and Lloyd Banks – "You Don't Know"
9. D12 – "My Band"
10. Obie Trice – "Wanna Know"
11. 50 Cent – "Wanksta"
12. Obie Trice – "The Setup" (feat. Nate Dogg)
13. 50 Cent – "In Da Club"
14. D12 – "Fight Music"
15. Yelawolf – "Pop the Trunk"
Bonus
Eminem – "Lose Yourself" (Original Demo Version)