San Cha
Insane [Prod. Stimey Beats]
Jeona Maud (Dubstep Mix)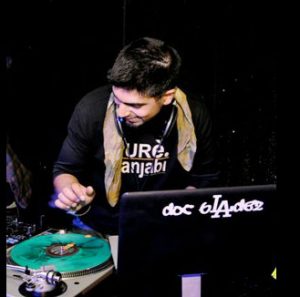 doc bLAdez began his interest in music at a very young age. In the late 1980's, bLAdez' grandfather taught him how to play the harmonium, a classical South Asian Instrument.
In the 1990's, bLAdez began his interest in deejaying. Being influenced by UK artists, such as Bally Sagoo and Panjabi MC mixing Hip Hop and Punjabi music, doc bLAdez began spinning at local parties and slowly became one of North America's premier South Asian DJs. He formed a crew of djs and producers, known as The Five River Fundamentalists in 1996. Aside from mixing at parties and mashing up tracks, bLAdez became infatuated with the art of Turntablism in 1997.
doc bLAdez won the 2003 Cerritos Guitar Center DJ Battle and later went on to compete for the U.S. Championship. In 2005, doc bLAdez was a finalist in the world renown International Turntablist Foundation DJ Battle in Los Angeles.He has also been the tour dj for the South Asian Hip Hop sensations, Karmacy since 2003, performing across North America. bLAdez has also shared the stage with Bone Thugs N Harmony, Collie Buddz, DJ Melo-D, Mr. Choc, Fatman Scoop, B-21, Bally Sagoo, Tigerstyle, Jay Dabhi, Sandeep Kumar, Jassy Sidhu, Gurpreet Channa, Sandeep, Jason Joseph, Yashraj, Sim Grewal, Panjabi MC, RDB, Dr. Zeus, Punjabi Hit Squad, Nappy Roots, Biz Markie, Gippy Grewal, Jazzy B, People Under the Stairs, dholnation, and many more. Today, doc bLAdez is one of the few djs that can rock a party with his scratches, beat juggles, and body tricks while playing the sickest mix of Hip-Hop, Punjabi, Dubstep, and Drum n Bass.