By: Priya Lisa Gonsalves
Check out DesiHipHop.com's exclusive interview with Shraddha aka B-girl MuSick, one of India's most widely recognized B-girls.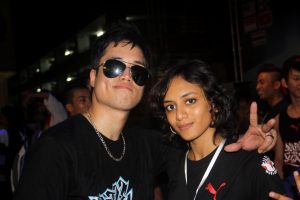 DHH: Shraddha, Can you share with us how you came to be B-girl MuSick?
MuSick : I started training as a B-girl at the end of 2009 in Mumbai with some of the best B- boys, in my opinion, here in India. Later on I was taken into the crew Freak N Stylz in July of 2010. A little background to this, was that I took part in a contest and started getting exposed to Hip-Hop commercial music and I saw Freak N stylz. I got very interested in the dance style and started researching it on Youtube where I came across Prosenjit Kundu and Freak N Stylz; however, initially I taught myself through Youtube and with time became better friends with Freak N Stylz and trained with them and was asked to be a member in 2010 and have been part of the crew ever since.
DHH: B-boys/B-girls choose interesting names by which they are known, Why have you chosen the name B-girl MuSick and what would you say is your unique persona as a dancer?
MuSick: I was brainstorming with my crew and we couldn't seem to come up with something that stuck with me. I always wanted to break because I literally wanted to do "sick moves to music" so I decided to combine the two words and simply came up with Musick. As a dancer, I understand the importance of the music element in dance and I am always trying to do justice to my name.
For me to be happy while dancing is the most important factor and having fun as well; also I like to break peoples' stereotypes as to what it is to be a girl who is a dancer having grown up in India. I like to push my limits with dance a lot and I feel as a dancer, I have developed a sort of fearlessness due to the influence of my crew members that I have grown to be very close with. We have a great relationship of trust and respect for each other.
DHH: Can you tell us a bit about your crew Freak N Stylz which is India's first B-boying crew and your favorite moment with them thus far?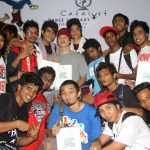 MuSick: Freak N Stylz, as you know, is India's first B- boying crew which was created in 2007. Prosenjit Kundu came to India in 2006 and started teaching for free. He taught one of the earliest founders, B-boy Young soul, and Freak N Stylz was born along with other crew members who are still dancing today. Currently, we continue to pass on the knowledge of Breaking; over the years we have established 5 different Centres in Mumbai (Sion, Bandra, Andheri, Marine Drive, Thane and Powai) and even 2 centres in Pune.
We have performed all over India including Kala Ghoda Festival Mumbai, NIT Warangal,Auto Expo Delh. Ed Hardy Launch Delhi etc. We were even the first Indian crew to represent Indian B-boys internationally in Taiwan and we won the first Battle Of the Year Championship organized in India and went to the Qualifiers in Bangkok.
I think my favorite moment with the crew was when we got to Bangkok. The hotel was booked only for B-boys, and although it happens in most international jams, this was our first experience of something like this, we were dancing in the lobby, reception area etc. Just being in an environment of people just like me was really overwhelming and exciting and that too in a hotel. It was nice to be respected for our art.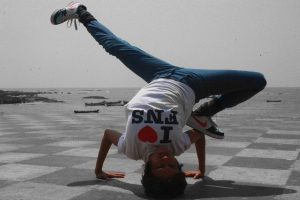 DHH: How would you describe the urban movement of Street dance in India currently and how does it feel to be part of something so new and empowering in your country?
MuSick: I would say that there are probably dancers in the thousands and there are a lot of events and international interest in us as a community, so I would say that it is growing very fast. As one of the few girls in India that dedicates my life to this art, it's great to know that I am part of such a big socio-cultural change in my country and I am witnessing it from the forefront. I feel very positive about the things to come.
DHH: What are the biggest obstacles you face and what are your greatest triumphs with your dance expression?
MuSick: As far as obstacles, I would say they are more like social hurdles as well as physical demands on your body. Sometimes, unfortunately, people do not take what I do seriously and being a B- girl is not understood by many nor is it given adequate importance by them. This extends to the boys as well, there is so much competition amongst the boys as there are so many of them now.
I am most proud of that by being part of the community I feel like I have made some positive changes, and my triumph I guess is my self-improvement and the ability to help other people in the community who have done the same for me.
DHH: What are some of your goals and hopes for the future?
MuSick: I want to be able to make my crew bigger not just by virtue of numbers but as an entity in breaking not only in India but at an International level and I want to also try and help towards making positive steps forward to help the movement in India. I also want to encourage more girls to be involved in a community that I love so much.