DANGAL – First Battle Rap event of Sub-Continent – They-See Battle League (TSBL)

DANGAL, is first of its kind battle rap event arranged by They-See Battle League (TSBL). The event will take place in the capital city of Pakistan under the supervision of leading Hip Hop head from the country, Xpolymer Dar (Rap Engineers). Battle rap in not new to desi Hip Hop. In the past, TV shows like MC Clash on Play TV and some online beefs have been accommodating the essence of what battle rap has evolved into today. Globally, almost all countries active in Hip Hop have multiple battle rap leagues. The most viewed and famous of them are King Of The Dot (Canada), URL (USA), Don't Flop (UK) and Flip Top (Phillipines).
They-See Battle League is the first battle rap platform for desi rappers representing the sub-continent. TSBL not only plans to hold events within Pakistan, but as the culture grows TSBL is also looking forward to franchise the league in India, Bangladesh, Nepal and Srilanka. The major aim and focus of promoting the battle rap culture is to bring the raw and fresh talent in front with the leading Hip Hop artists and bring together the desi Hip Hop community so the competition grows and the quality of Hip Hop not only prevails but also improves.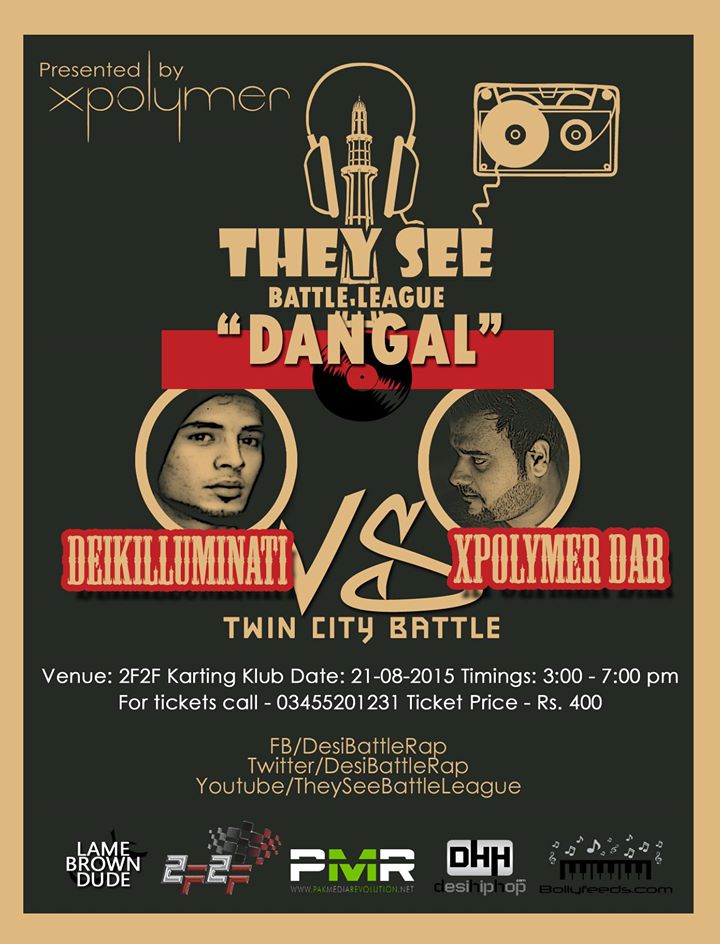 DANGAL, the first ever desi battle rap event in sub-continent will take place in Islamabad, Pakistan on August 21st-2015 at 2F2F Karting Club. So far the main event is announced:
Xpolymer Dar vs Deikilluminati (Twin city battle)
The main event, Xpolymer Dar vs Deikilluminati is a promotional battle to show new rappers how it's supposed to be done. Xpolymer Dar from Rap Engineers goes back to 2006 and Deikilluminati from Desi Addicts crew goes back to 2009. Its battle to the throne of the twin cities Islamabad/Rawalpindi. Let us know who you think will win?
Grab your tickets by contacting at: 03455201231
DANGAL event page: www.facebook.com/events/894034430690554/