Comilla Hip Hop Hood Started their journey in bangla hip hop industry around 2007 . Now, It is an organised group of talented people including  Rappers , B boys , Graffiti Artist , Stunner , Beat Boxer , Composer , Vfx and Gfx Designers.
In this video, some of those very talented MC's from Comilla joined together to create this collaborative cypher. Oni Ahmed , Qpid , Mizta Skab   and Mizta Irfu dropped some dope verses in Bangla. Live Graffiti Art was also performed behind by Oni Ahmed  during the shooting of the music video. Its a new school Hip hop themed video where Mizta Irfu introduced " chopped  " fast flow rapping style  in Bengali language.
For more updates about CHH,  please be connected with Planet Hip Hop.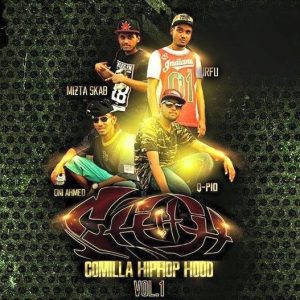 Share your opinion about this cypher with Dhh.  Share and enjoy.