Chandigarh Rap Cypher (Cash kardz, D gunner, N-Gritz, Suraj and Gd Singh)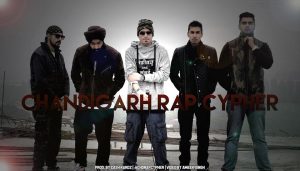 Check out this Exclusive stuff, Chandigarh Rap Cypher featuring some of the best North Indian Underground Desi Rappers like, Cash Kardz, D Gunner, N-Gritz, Suraj & GD Singh.
After Delhi Rap Cypher, Mumbai Rap Cypher, Bangalore Rap Cypher now you get Chandigarh Rap Cypher by some of the best Underground Rappers from North India. Check it out below on youtube.
Cash Kardz official Social media links :
Facebook: https://www.facebook.com/cashkardzoff…
Instagram: http://instagram.com/cashkardzfrommars/
D.Gunner's official Social media links :
https://www.facebook.com/GunjeetDGunn…
N-Gritz official Social Media Links:
https://www.facebook.com/ngritz1
https://twitter.com/ngritz1
Suraj's official Social Media Links:
Facebook: http://www.facebook.com/asliSuraj
Twitter: http://www.twitter.com/asliSuraj
GD Singh's official Social Media Links:
https://www.facebook.com/GD47Muzik