Bollywood Heist 4 – All Desi Artist Mixtape by DJ Midknyte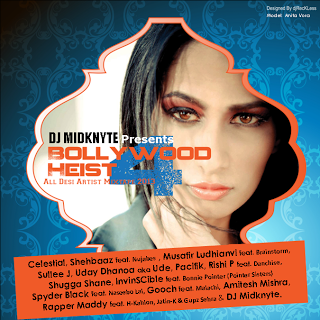 DJ Midknyte was born and raised in Fiji Islands. Moved to Bay Area California when was a teenager. He was always interested in music and always coming up with crazy ideas what he can do with music. He used to borrow his uncle's DJ System and do friends and family parties. In year 2000 he started mixing, promoting and remixing tracks for CD's.
He dropped his first remix CD "The Midknyte Chronicle Vol 1", in 2003. His second remix CD was "House Of Desi:H.O.D.'05 in 2005, which featured many Desi DJ's. In 2006, he was one of  the 1st DJ to introduce Bay Area, California to DESI HIP HOP. He brought many Desi Artist's together in club and also on his mixtape " Fauji DJ's: Desi Hip Hop Mixtape" in 2007.
In 2008 he was also the first DJ from Bay Area to come out with Bollywood/Desi Hip Hop Mixtape "BOLLYWOOD HEIST", which featured many Desi Hip Hop Artist's on Bollywood Beats. In 2010 he released Bollywood Heist 2, Bollywood Heist 2.5 in 2011, Bollywood Heist 3: All Desi Artist Mixtape in 2012 and Bollwood Heist 4: All Desi Artist Mixtape 2013 which had many Desi Artist's around the world. DJ Midknyte worked with Desi Artist's from all over USA, Canada, Fiji Islands, Norway, India, Pakistan, South Africa, Australia and more. He is always busy with a project. He still has more to give to music lovers around the world, so pay attention.
Free Download Link – https://www.box.com/s/ihla73eb7o55pu0501b7