Bohemia releases the official music video for "Talli" featuring Gitta Bains produced by Tigerstyle Music. Bohemia's hard hitting Punjabi rap intertwined with Gitta Bains's melodic folk on a massive orchestration by legendary bhangra producers Tigerstyle Music is just a taste of what's coming on his upcoming album "Thousand Thoughts". "Talli" takes you up close and personal into the Punjabi RapStar's stomping grounds of Oakland, California.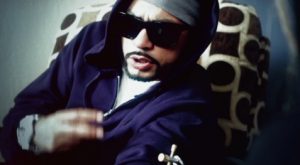 "I've always wanted to do a bhangra track, and when it comes to bhangra, Tigerstyle is amongst the best in the world, so this is an honor. The video for 'Talli' is very special to me. I wanted everyone to take a ride along with me thru the streets of Oakland California. I've been roaming around on these very streets ever since I was a kid. The video represents my life as it is – my homies, the children, the cars and street – this is the way I have lived my life for so long. I rap because I grew up here in California. I wouldn't have been a rapper if it wasn't for that. Gitta Bains and I are very close friends so this track has nothing to do with the so called industry – it's just two homies hanging out – another day in our lives. 'Talli' is off of my upcoming album 'Thousand Thoughts' and it's a dedication to all legendary bhangra artists that my generation grew up on".
Known to the world as the Father of Punjabi Rap, Bohemia has earned his stripes over 15 years dedicated to pursuing his passion – before most of the current Desi Hip-Hop artists were even born. A poet, producer and visionary – his music has topped the charts on Maxim Magazine, BBC Radio 1, Planet M and ReverbNation – giving him numerous opportunities to work in Bollywood with the likes of Akshay Kumar, Sanjay Datt, Vishal Shekhar and many more. Numbers don't lie and neither do his 600,000+ fans on Facebook, making Bohemia the most coveted South Asian (Desi) Hip-Hop artist in the world.
Bohemia's third official album, "Thousand Thoughts" is set to release on Sony Music in August featuring a very diverse set of international collaborations with Baby Bash, The Jacka, Taz of StereoNation and many more. If you're tired of the monotonous Hip-Hop on the radio these days, you'd be wise to start doing your homework on "Desi Hip-Hop", because this train has left the station and its going full steam ahead!
http://www.facebook.com/realbohemia
http://www.twitter.com/iambohemia
http://www.thousandthoughts.com
http://desihiphop.com