Bohemia & Sony Music have decided to put their differences aside and work on his next album – and that's great news not just for his fans, but for the whole industry.
For my loyal fans, my label Sony Music and I have decided to put our differences aside and work together for my next album.

— BOHEMIA (@iambohemia) April 28, 2015
Well that's huge, considering Bohemia was properly pissed at Sony not to long ago for not knowing how and where to place a HipHop artist within their current catalog causing delays and confusion between the two powerhouses.  Checkout what he had to say on Facebook: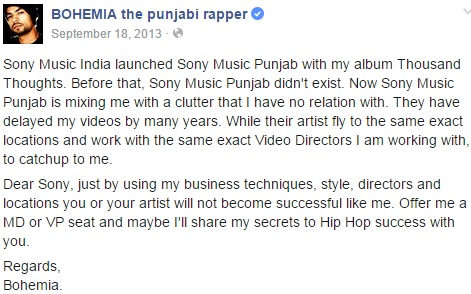 In September of 2013, Sony Music dropped the video to Beparwah (which was already two years late) and screwed up the title: "Bohemia Beparwah Feat Devika". Bohemia had recorded the song, and shot the video a couple of years ago. But, corporate politics crept up and did what it does best, and delayed pretty much everything! This is not the first time a music label has done this to their artists, and surely won't be the last. This led to a twitter rant from the Punjabi rapstar that stirred up a real debate.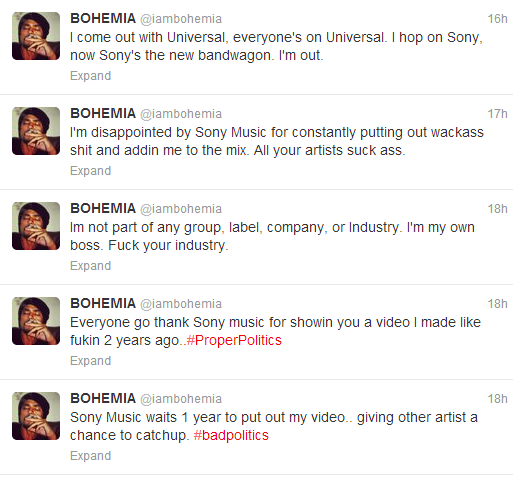 Well lets hope this time around Bohemia & Sony Music find a good balance and drop something special for all the fans.  Sony has definitely been warming up to HipHop over the past few years by signing artists like Brodha V, Badshah & recently dropping Divine and Naezy's #MereGullyMein.  We look forward to major labels like Sony Music India & Universal Music Group India to really put money behind developing this market, because at the end of the day – we are all Desi & love HipHop!