Manj Musik made a major announcement today of an anticipated DesiHipHop Collab song with some of the most talented & well known artists in DesiHipHop. The sensational singer from "Swag Mera Desi", and countless other hits, announced an upcoming release of a single that features Manj Musik, Raftaar, Raxstar, Badshah, Humble the Poet, Roach Killa, and Sarb Smooth all in one track! This one's gonna be craaaay-zyyyy!
Each of the artists made their mark this year already with hit singles enjoyed by Desi Hip Hop fans worldwide. Manj and Raftaar did what they do best at 'Swag Mera Desi', and Humble the Poet connected with millions through '#LEH'. It will surely be interesting to see what all these Hip Hop heads come up with together!
Watch the Promo Video Below – Will this be the DesiHipHop song of the year?
(If the Facebook post above fails to load on your device, click here to see it on Facebook)
—
And of course, Bohemia fans were not too excited to hear about a "DesiHipHop" collaboration song without the main man himself. And, this is what Manj had to say about that….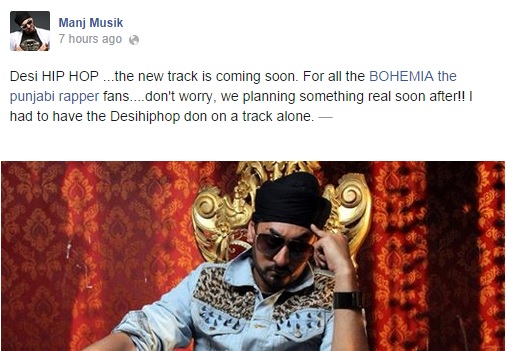 Manj Musik AND Bohemia on a track!? I always liked Manj Musik, but when I heard him with Raftaar on 'Swag Mera Desi', my Hip Hop head started bouncing uncontrollably. Since then, I've been curious to know how he would sound with the likes of Bohemia or even artists like Drake. Manj truly has unique vocal skills, and it'll be awesome to see him work with Bohemia on something new and innovative in the DesiHipHop industry.
All I can really ask now is "How long do I have to wait!?"
Are YOU as excited as I am about this upcoming DesiHipHop collab?