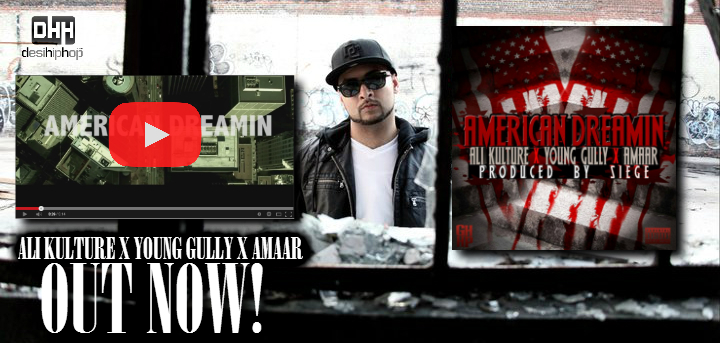 Ali Kulture is an artist we recently got the chance to listen to, and we were impressed, to say the least! Ali Kulture has been on his music grind for quite some time now, and you'll easily notice that by his sick flow and rhymes.
The latest single off Ali Kulture's newest project E.P.I.C [Every Piece I Create] titled "American Dreamin" featuring Young Gully & Amaar. The song defines the reality of what it takes striving for the American Dream – every artist vividly portrays their own point of view through personal trial and triumph.
And, this song and video is dope as hell! Before I continue, hit play below and put up your volumes…
DesiHipHop.com presents…
Ali Kulture X Yung Gully X Amaar – American Dreamin'
Track produced, mixed and mastered by Siege | Video shot and directed by Tha Razor.
First of all, I love the beat. It pulled me in instantly. Then comes the hook, and the hooks had me hooked right from the start. At that point I was already sold, and then I heard his verse. Ali Kulture's rhymes and flow impressed me a lot; the way he rides the beat shows what an experienced rapper he is. The verses by Yung Gully and Amaar was equally catchy and had me bobbin' my head to it.
This artist is surely here to stay, and we're excited to see more from Ali Kulture and his friends. Let us know what you think about the video, leave a comment on YouTube and express yourself!