KhanArtists Drops Sick Collab with 6 NYC Emcees – Back to New York
These New York City Rappers just grabbed the mic, and shut it down! Their lyrical skills are sick with no limit, and their flow is impeccable on this old school beat. The flows and style reminds me of old school East Coast legends like Nas mixed with a touch of Biggie Smalls with influences from Big L, amalgamated with each artists' unique Desi swag. It's almost like a sick New York Cypher, it's raw, it's real, it's exactly what we love. Click play for some dope lyrical skills & sick flows.
KhanArtists – Back To New York (ft PakArmz, Rebel, Syckz, AH Murda, I – Sick, Bangully)
'Back to New York' features some of the sickest Desi Emcees from New York City. Pakarmz starts off the song with his old school flow, which almost reminds me of Big L back in the day. After him follows artists from KhanArtists – Rebel & Syckz – both of whom bring in their unique flows on the beat and rips it apart. Rebel, especially, kills it from the time he enters the track till he passes on the mic to his compadre, Syckz.
Right after that follows 'Blazin Annex' artists – Ah Murda, I-Sick, and BangGully. These three might be the last three on the track, but their flows are so sick that it makes me feel like the producer left the best for the last. Ah Murda murders it, as usual, but his flow is something I seriously admired, it caught my attention like Biggie Smalls did when I first heard B.I.G. in the '90s as a kid. I-Sick comes through right after and does his best to entertain the audience with some great lyrical skills. And, lastly, BangGully, comes in to complete the song and turn it into a true New York track.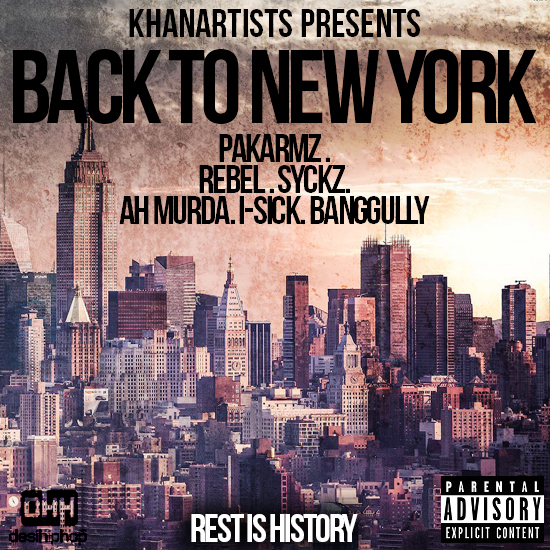 The dopest part about this song is it lives up to the true essence of Hip Hop. The rappers sound like they grabbed the mic, and passed it around, and just happened to hit record while they were having fun in the studio. It's raw, it's real, it's skillful, it's lyrically dope, it's everything I love about Hip Hop! It's almost like a Cypher – done well in the heart of New York City, Hip Hop's birth place.