2-ShadeZ – Dispensing A SounD (Mixtape) #OutNow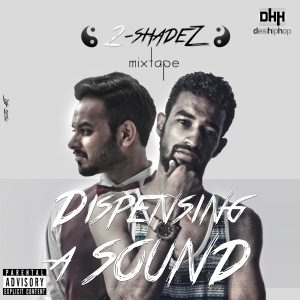 ​Dispensing A Sound is the second mixtape after the first mixtape, "Taking over the World". The mixtape comprises of 15 tracks and with something with which every hip hop head can connect to. Zan's lyrical stylings and Slyck's flows complement each other and have successfully told their individual as well as collective journey through hip hop. The first video for the mixtape was out in 2012, called Firangi and since then has been no looking back. 2-ShadeZ talk about their struggles, heartbreaks, dilemma's, grief and various other emotions and situations which one faces in a day to day life. The production on the mixtape has been done by Daksh Bhagi and Prabh Deep Music. The mixtape features Mumba'is Finest and various artists from the Dirt Label Roster.
A must listen for every Desi hip hop head. "Dispensing A SounD"
Below you can listen to the mixtape and read more about 2-Shadez and his mixtape.
Q. What prompted you to make this mixtape, "Dispensing A SounD" ?
A. Well honestly we had released our debut mixtape "Taking over the world" back in 2010, so just the very thought of not releasing a mixtape in such a long time was suffice enough to stimulate us to get back in the studios and get working. The work on this started this back in 2012, with the release of, "Firangi" which was produced by Adx of nau sau bai. "Dispensing A SounD" was suppose to be a solo project but Zan got on board after a few studio sessions. The term dispensing is used in Pharmaceutical (which is Slyck's 9 to 5) lingo to give or supply medicine to patient who is need of it due to a disease, ailment or sickness, applying the same analogy in this case that this mixtape has been an attempt to 'Dispense' good old rap music to someone what so ever be the mood he might be in, from happy to sad, from fresh love to heartbreaks, from something to get inspired from to something just to chill with, Everything is on it. There is no theme to the mixtape but just tales of what me and zan have been going through in the past few years as individuals and even as a duo.
Q. What is your personal favourite track from this mixtape ?
A. Without a spec of doubt that would have to be, "Tough Man Gotta Cry". I wrote that track for my grand father back in 2013 after his passing away. It was my way of paying respect to his legacy. The track has been produced by Uefo, a friend from Poland and the video was shot and edited by fellow Label mate, Mojo of Desi Beam, who has also designed the mixtape cover. I have received a lot of positive feedback for the track and I am thankful to everyone for the same.
Another would have to be, "Press Play & Rewind". This track is was the perfect medium for me and Zan to release all the post romantic emotional build up on a track. Both of us went through our respective individual heartbreaks almost around the same time and it took us a lot of booze and a fantastic beat by Daksh Bhagi to go ham on the beat. Nineteen 47 helped us put together a brilliant video for the same.
Q. Is there anyone who you would like to thank for this mixtape ?
A. There are a few people who need to be thanked for this. A shout out to Sir-D and Mojo for their respective features and also other creative inputs. Also Mumbais Finest for their feature on "I am Hip Hop". This mixtape would have been impossible without my producers Prabh Deep Sagar and Daksh Bhagi.
A lot of the videos which are out were due to the efforts of Vaksh Vimal and Pranav Singh of Nineteen 47, this team is up to some next level stuff watch out and I it was great working work with them. Last but not least a shout out to DesiHipHop.com for helping 2-ShadeZ constantly with the various releases throughout the past.
Also much love to anyone and everyone who have supported us throughout the journey.
Get at the mixtape. It will be worth your time.